Know Your Candidate
AAPI Business Civic Engagement & Community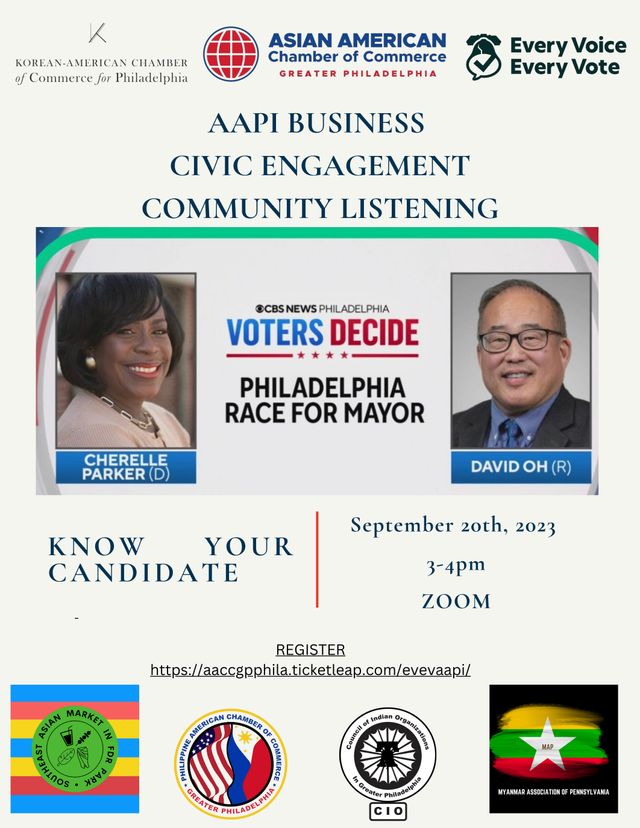 Description
The 2023 Philadelphia mayoral election will be held on November 7, 2023, to elect the mayor of Philadelphia.
In May, Democratic voters in Philadelphia chose former city councilmember Cherelle Parker as their mayoral nominee. Parker, who was backed by much of the city's party establishment, won the nomination over eight other Democratic candidates. Many believe that Cherelle Parker is poised to become Philadelphia's first Black woman mayor after securing the Democratic nomination in May primary election.
David Oh, a former longtime At-Large City Councilmember, was the only Republican to run for Mayor. Despite Philadelphia being a heavily Democratic city, Oh has established a brand as a Republican willing to clash with both parties and his cultivated a unique base of supporters, particularly among immigrant voters.
What do you think about the upcoming Mayoral Election?
Do you really know your candidates and what they are campaigning for?

Asian American Chamber of Commerce of Greater Philadelphia, in collaboration with Every Voice Every Vote and our partners, is hosting a Community Listening Session on August 29th, to support the efforts to encourage strong civic engagement among AAPI business community, that represents over 11% of Philadelphia's small business ownership. Join us and share your thoughts with us, let's learn more about the upcoming election and the candidates.
3:00 PM EDT
to 4:30 PM EDT
RSVP Required
Accepting Online Registration
Virtual Event
Please note that this is a virtual event and has no physical location.